Searching for Car Transport Services?
If the answer is yes, Transporting Cars 4U is what you are looking for. We have excellent rates for enclosed and open car shipping needs. Whether you are looking to transport a luxury car, a classic car or a motorcycle, we have the options for everyone needs.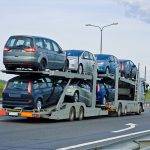 We will help you choose the best rates, and get your car to your next destination when need it and within the time frame previously arranged. Transport Cars 4U handles the pickup and delivery of the vehicle, and all the necessary paperwork and insurance; and if transporting overseas, all the information regarding the other country's customs regulation paperwork.
Frequently asked questions
How do you book with us?
You can get a free quote by coming to our office, over the phone or online in our website.
Can you ship things inside your car to ease the cost of a moving company?
No, we can only transport the customer's vehicle. We can't allow customers to fill out their vehicle with clothes, appliances, furniture or even spare parts. Also, the fuel tank has to be completely empty, and at the time of inspection, owners are required to be present at pick up and delivery.
Many car owners have different transport needs, as some of their cars are luxury vehicles, racing cars, or motorcycles. Styles and sizes matter when choosing the type of car shipping method, as some are more expensive than others.